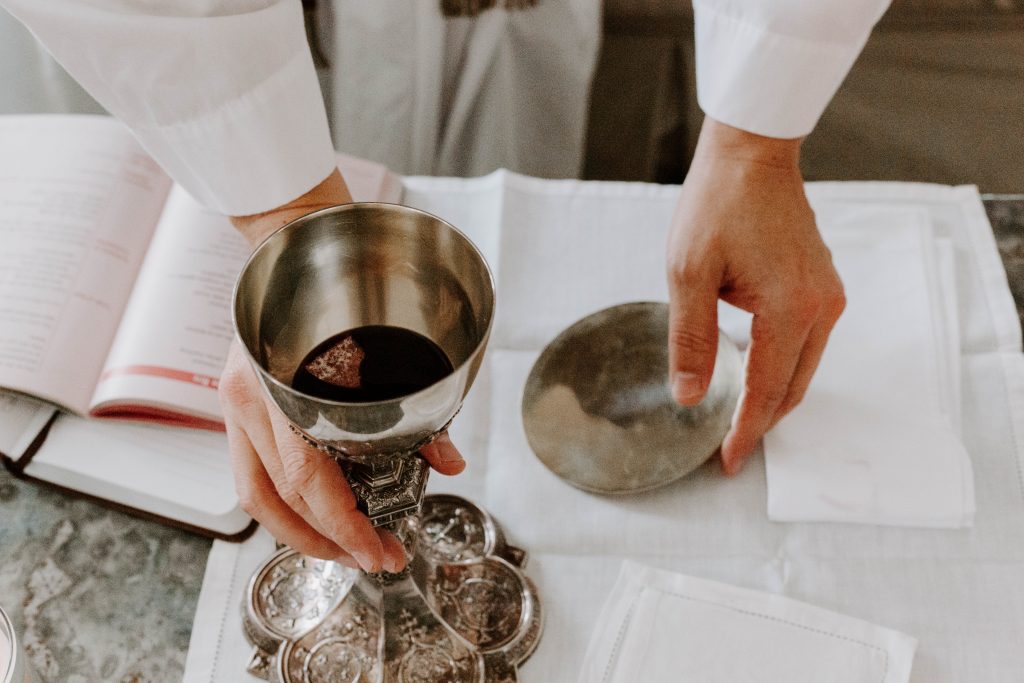 WELCOME BACK! We are so happy to celebrate the Holy Mass with many of you. We ask for your patience and consideration as we slowly reopen for public Masses.
CoVid-19 Restrictions to Expire.
Blue tape is gone! All restrictions on capacity limits and social distancing are removed. Masks are required in doors following Montgomery County guidelines, even for vaccinated people. Thank you for your cooperation. Normal liturgical actions are restored such as Offertory Procession and Sign of Peace (bow, wave, smile, to those near you are allowed suggested). Holy Water is back, but please use hand sanitizer as well. Use of printed materials such as worship aids are allowed. Priests, deacons and Extraordinary Ministers of Holy Communion will continue to wear masks during distribution of Holy Communion and sanitize before distribution and after any contact with another's hand or if they receive on the tongue. We continue to ask those who receive on the tongue to come at the end of the line. We will continue to offer hand sanitizer and will sanitize the interior of the church daily. 
End of Dispensation to Attend Sunday Mass
See the joint letter below from Cardinal Gregory and the bishops of 5 neighboring dioceses, announcing the end of the dispensation to the obligation to attend Mass on Sunday (Saturday vigil) beginning June 26-27, 2021. Catholics are obligated to fulfill the divine commandment to keep the Sabbath holy, which means attending Sunday Eucharist (including the Saturday vigil) and Holy Days of Obligation. The dispensation to this obligation was given to ease the hearts and minds of those who could not attend due to the pandemic. The circumstances have allowed more of us to attend mass and the bishops see no need for this extraordinary measure. This precept of the Church is a grave matter. Only for serious reasons is one not under the obligation to attend Mass. These reasons are explained below in the letter.
"This obligation (to attend Mass on Sundays and Holy Days of Obligation) does not apply to those who are ill; those who have reason to believe that they were recently exposed to the coronavirus, another serious or contagious illness; those who are confined to their home, a hospital, or nursing facility; or those with serious underlying health conditions. One should consult his or her local pastor if questions arise about the obligation to attend Mass (Canon 1245 and the Catechism of the Catholic Church n. 2181).

We have been happy to reach out to so many throughout these long months. However, as much as virtual attendance has been a blessing, it is also not a replacement for in person participation of the Eucharist. For those who wish to watch online, options are: EWTN, the Basilica of the Shrine of the Immaculate Conception and the Mass for Shut-Ins. All can be found on YouTube, or their respective TV channels. The Eucharist is the source and summit of our existence, the participation in the continuing presence of Jesus and the love of God in our midst. 
Mass Times
Saturdays (vigil for Sunday)
Sundays
7:30am
9am
10:45am
12:30pm
5pm