You are witnesses of these things…Lk 24:46-53
Español abajo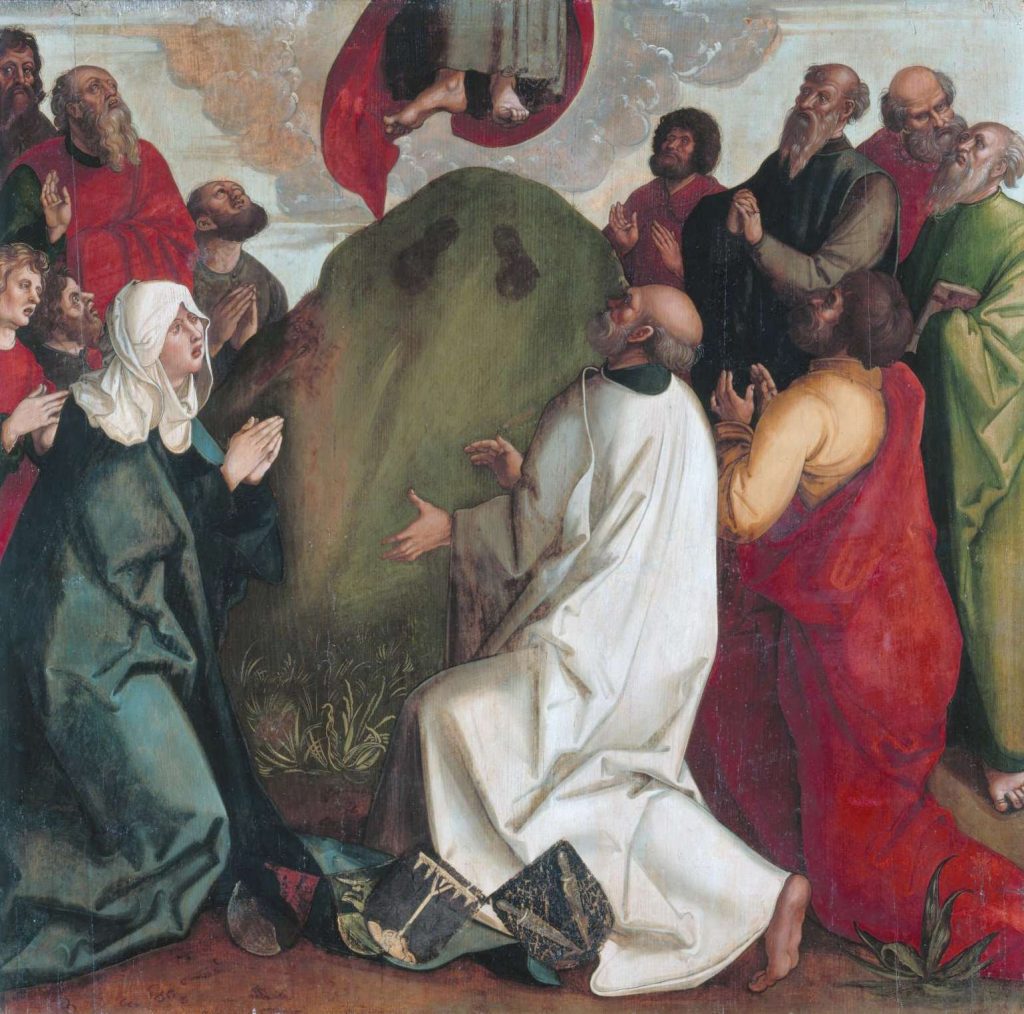 Dear Mother Seton Parish,
Reminder: The Ascension is transferred in this archdiocese, from Thursday to Sunday May 29th. 
There actually is a stone in Israel, in an empty rocky field, that supposedly has the footprint of Jesus as he Ascended into heaven, just like this painting. It is kind of funny but in some ways it is a metaphor for what we are…the holy imprint of Jesus. 

Jesus says "I am sending the promise of my Father upon you..": the Holy Spirit. We are imprinted with the very personality of Jesus in Baptism. His going to heaven, is not leaving us, but taking all of creation, most importantly, our nature, with Him. The Ascension is the glory of God revealed, the sign that all has been saved and we are here to live that new reality on earth. "I was baptized so that the power of the Mystery which has transformed me in baptism, wanted to pass through me in order to reach others along many paths and occasions." 

But today, with the shootings in Buffalo and Texas, the war in Ukraine, etc. what are we to pass on?
(The following is from a friend after the Texas massacre on Wednesday. The retreat took place a few weeks ago, but it speaks to us after Buffalo and Texas. The question is "Why?")

Fr. Lepori responded to this question: "We can't go on without constantly thinking of Ukraine (…and the horrific shootings). Humanity, humans all over, live a tragedy that Saint Paul describes very well in his shipwreck travel. We will not save the ship. We can't do anything, we cannot rebell. Saint Paul eats the bread, the Eucharist, lives his sacrifice. Crucified Christ, defeated death, won death. Jesus decided to go to the very depth of humanity. Jesus embraces our despair. Ask the One that attracts your life, He is crucified and yet He lives!. Christ is the Ukrainian who is raped, abandoned, under the bombs (…the grocery shopper, the 10 yr old). Beg to see Him in your circumstances, beg to see Him in every one, Russian or Ukrainian. It is thanks to Him that we will defeat death, evil will be defeated. It happens now. Takashi Nagai (whom I spoke and wrote about earlier this year, the survivor of Atomic bombing of Nagasaki) goes through  the moment of despair after the atomic bomb destroyed  everything and everyone. (https://en.wikipedia.org/wiki/Takashi_Nagai). Then Jesus talks to him saying "My world will not end" and Nagai decides to live for the ONE who does not die. Yes, to live for the ONE who does not die, evil will not win". 

Fr. Lepori  also added : "I can't answer to the "why?" of these tragedies, I can only share the way. I cannot live without the cry of our Ukrainian friends!" (,,,the cry of the parents and children) ."Christ the life of Life. He is the certainty of a good destiny. This is the only thing we need, we all need. We need a life that raises us from death, from any death. The rest gives us anxiety, it is not necessary. Life is the place where the desire of the heart is manifested, and we need "not to die for eternity". We need the life that only God can give us. Each of us is loved by the Father to live a life which is more or less long. We are made for Him, to live in communion with Him". This is my value.

 That means in all we do, at home, in private, in public, at work, is to affirm God is all in all. In the Ascension, our humanity is taken up to God, to heaven. Therefore all of our efforts and actions here are meant to point to that. Jesus is not leaving us, but bringing us with Him. May all we do be rooted in Christ and for which our baptism calls us. 

Blood Drive Sunday May 29, 2022 Please consider giving the gift of blood this Sunday from 8am – 12:30pm in the parish center. The gift of blood is a gift of life. All 16 and older are eligible to donate.

Memorial Day We will only have a 9am mass on Monday May 30th.Memorial Day is, along with the common understanding of the beginning to the summer season, to remember our military men and women who have lost their lives in service to our country. We honor all who serve and have served protecting us and the vulnerable around the world. 

Fr. Lee traveling in June. I will be away from June 7th – June 21. A trip originally meant for 2020 is happening, traveling to Italy to see my nephew in the seminary and travel with friends in Umbria. Fr. Alberto, along with our beloved Fr. Lou, and Fr. Ray Fecteau, will be here to cover the parish. Thank you and them for allowing this to happen.

Volunteer Appreciation Party Postponed. Apologies to all. We will not be able to have the event as advertised on June 25th, but we will look to the Fall for another date, promise. We need to be with each other and I want to thank all of you.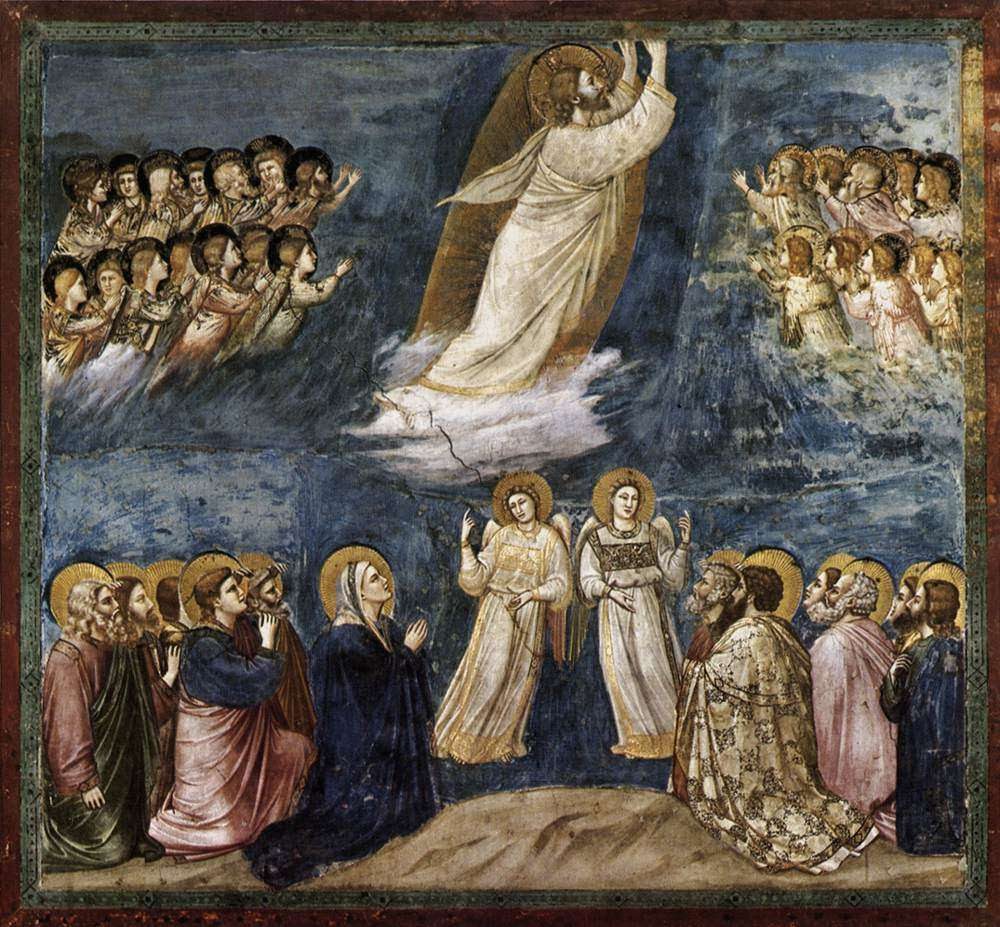 Somos testigos de estas cosas… Lc 24,43-56
Querida Parroquia Mother Seton,
Solo un recordatorio de que la Ascensión se traslada del jueves de esta semana al domingo 29 de mayo.
En realidad, hay una piedra en Israel, en un campo rocoso vacío, que supuestamente tiene la huella de Jesús cuando ascendió al cielo, al igual que esta pintura. Es un poco gracioso, pero de alguna manera es una metáfora de lo que somos… la santa huella de Jesús.

Jesús dice: "Estoy enviando la promesa de mi Padre sobre vosotros.": el Espíritu Santo. Estamos impresos con la personalidad misma de Jesús en el Bautismo. Su ir al cielo, no es dejarnos, sino llevar toda la creación, lo más importante, nuestra naturaleza, con Él. La Ascensión es la gloria de Dios revelada, la señal de que todo ha sido salvo y estamos aquí para vivir esa nueva realidad en la tierra. "Fui bautizado para que el poder del Misterio que me ha transformado en el bautismo quisiera pasar a través de mí para llegar a los demás a lo largo de muchos caminos y ocasiones".

Pero hoy, con los tiroteos en Buffalo y Texas, Ucrania, etc. ¿qué vamos a transmitir?
(Lo siguiente es de un amigo después de la masacre de Texas el miércoles. El retiro tuvo lugar hace unas semanas, pero nos habla después de Buffalo y Texas. La pregunta es "¿Por qué?")

Padre Lepori respondió a esta pregunta: "No podemos seguir sin pensar constantemente en Ucrania (… y los tiroteos horribles). La humanidad, los humanos por todas partes, viven una tragedia que San Pablo describe muy bien en su viaje de naufragio. No salvaremos el barco. No podemos hacer nada, no podemos rebelarnos. San Pablo come el pan, la Eucaristía, vive su sacrificio. Cristo crucificado, venció a la muerte, venció a la muerte. Jesús decidió ir a lo más profundo de la humanidad. Jesús abraza nuestra desesperación. Pídele a Aquel que atrae tu vida, ¡Él está crucificado y sin embargo vive!. Cristo es el ucraniano que es violado, abandonado, bajo las bombas (…el comprador en el supermercado, el niño de 10 años). Ruega que lo puedas mirar en tus circunstancias, ruega verlo en cada uno, ruso o ucraniano. Es gracias a Él que venceremos a la muerte, el mal será derrotado. Sucede ahora. Takashi Nagai (sobre quien hablé y escribí a principios de este año), el sobreviviente del bombardeo atómico de Nagasaki) atraviesa el momento de desesperación después de la bomba atómica de destrozó todo y a todos.

(https://en.wikipedia.org/wiki/Takashi_Nagai). Entonces Jesús le habla diciendo "Mi mundo no se acabará" y Nagai decide vivir para AQUEL que no muere. Sí, para vivir por el AQUEL que no muere, el mal no vencerá".
Padre Lepori también agregó: "No puedo responder al '¿por qué?' de estas tragedias, solo puedo compartir el camino. ¡No puedo vivir sin el grito de nuestros amigos ucranianos!". (el clamor de los padres y de los hijos)."Cristo la vida de la Vida. El es la certeza de un buen destino. Esto es lo único que necesitamos, necesitamos todos. Necesitamos una vida que nos resucite de la muerte, de cualquier muerte. El descanso nos da angustia, no es necesario. La vida es el lugar donde se manifiesta el deseo del corazón, y necesitamos "no morir por la eternidad". Necesitamos la vida que solo Dios nos puede dar. "Cada uno de nosotros es amado por el Padre para vivir una vida más o menos larga. Estamos hechos para Él, para vivir en comunión con Él". Este es mi valor.

Eso significa que en todo lo que hacemos, en casa, en privado, en público, en el trabajo, es afirmar, que Dios es todo en todo. En la Ascensión, nuestra humanidad es llevada a Dios, al cielo. Por lo tanto, todos nuestros esfuerzos y acciones aquí están destinados a señalar eso. Jesús no nos está dejando, sino trayéndonos con Él. Que todo lo que hacemos esté enraizado en Cristo y para lo cual nuestro bautismo nos llama.

Campaña de donación de sangre, domingo 29 de mayo de 2022Por favor, considere dar el regalo de sangre este domingo de 8:00 am a 12:30 pm en el centro parroquial. El don de la sangre es un regalo de la vida. Todos los mayores de 16 años son elegibles para donar.

Día de los caídos Solo tendremos una misa a las 9 de la mañana el lunes 30 de mayo.El Día de los Caídos es, junto con el entendimiento común del comienzo de la temporada de verano, recordar a nuestros hombres y mujeres militares que han perdido la vida al servicio de nuestro país. Honramos a todos los que sirven y han servido protegiéndonos a nosotros y a los vulnerables en todo el mundo.

El Padre Lee viajando en junio. Estaré fuera del 7 al 21 de junio. Un viaje originalmente destinado para 2020 está sucediendo, viajando a Italia para ver a mi sobrino en el seminario y viajar con amigos en Umbría.El Padre Alberto, junto con su compañero, nuestro querido Padre Lou, y el Padre Ray Fecteau, estarán aquí para cubrir la parroquia. Gracias a ustedes y a ellos por permitir que esto suceda.

Se pospone la fiesta de agradecimiento a los voluntarios.
Disculpas a todos. No podremos tener el evento como se anuncia el 25 de junio, pero buscaremos otra fecha en el otoño, lo prometo. Necesitamos estar juntos y quiero agradecerles a todos ustedes.
---