God is Love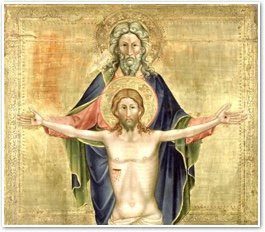 Dear Mother Seton Family,
Again, the Liturgy is an authority to follow. This Sunday is Trinity Sunday. We have completed the way in which God reveals Himself, from Christmas to the outpouring of the Holy Spirit, we now look at God in Himself: one God, three Divine Persons. This may seem abstract, far removed from my everyday existence, but it is fundamental to each of us. To know God as He is, is to know ourselves. St. John says, "God is love." (1Jn4:7-21) Is love abstract?

How is it concrete? Start from your own experience. When have you known you are loved? For me, it is mercy, being loved when I don't deserve of expect it. Like the younger son in the Prodigal Son parable, we are embraced with joy by the Father. Love is also concrete in the way I treat you. In the way that I don't see a stranger to fear, but embrace as a friend. The demonstrations following George Floyd's death are asking for a shift and change. What kind of change? That we really see each other. That we look into ourselves to see where the sin of racism exists. This can only happen if I have experienced a love that changes and frees me. This is why we need Jesus. The change comes when we are converted. Through our eyes and actions, others will meet a love that changes them. The first step is to meet and let this love and mercy transform our hearts. As Christians, we have the obligation and responsibility to be this change. Flooded with the love of Christ, we must be that sign of change, beginning with those closest to us.

Re-opening Status
Though Phase 2 for re-opening has been set in place for Maryland, Montgomery County continues with the current restrictions. This means we remain only offering mass on-line until further notice.
10:00 am Sunday in English here
11:30 am Sunday in Spanish here
Worship Aid here

We are working on the logistics for the time when we do reopen. When the time comes we will send a very detailed document along with some videos preparing to help you return to mass.
Knowing the frustration of many pastors and parishioners in Montgomery County, Archbishop Gregory's office has been in continual communication with our county government asking that these guidelines coincide with Governor Hogan's reopening plans. Keep praying for some movement on this.  

This is very difficult for us all. However, let's live these circumstances with faith and patience. God is doing something through all this. We can chose to be disheartened or chose to be full of hope, willing to suffer as Christ asks. 

May I also suggest:
Do not feel that you are restricted, or denied to pray and worship God. If one is totally dependent on God, he is free from every circumstance. I just read an interview with Cardinal Ernest Simoni, who for 28 years was imprisoned in Albania, and is now "a young man of 92!"  Commenting on these "extremely difficult times," he sees an opportunity to remember "what we have forgotten: that life will never be taken from us." He says, "God is infinite love. He knocks at the heart of the soul of every man and woman. He is in every home…" During this time without public Masses and few sacraments, this is even clearer to him. "Jesus said, 'Where two people are praying, I am there as the third.' He is in every family, in every moment, in every place in which we seek Him." The full text can be found here:  

Also, let's look to our African American brothers and sisters. The horrible dehumanization of slavery and racism could not kill the human spirit. From their experience comes some of the most beautiful spirituals expressing hope in God's love and promise. Though they were enslaved, they found  a way to express their freedom in belonging to Him. There is something greater than the world in the world. 

I am longing to be with you. As one Gospel Song says: "Soon and very soon, we are going to see the King." (Andraé Crouch )
"[God] will wipe every tear from their eyes. There will be no more death or mourning or crying or pain, for the old order of things has passed away." Revelation 21:4.
God bless you,
Fr. Lee
Querida Familia de Mother Seton,

Una vez más, la liturgia es una autoridad por seguir. Este domingo es Domingo de la Santísima Trinidad. Hemos completado la forma en que Dios se revela, desde la Navidad hasta la efusión del Espíritu Santo, ahora miramos a Dios en Sí mismo: un Dios, tres Personas Divinas. Esto puede parecer abstracto, muy alejado de mi existencia cotidiana, pero es fundamental para cada uno de nosotros. Para conocer a Dios tal como es, es conocernos a nosotros mismos. San Juan dice, "Dios es amor." (1Jn4:7-21) ¿El amor es abstracto?

¿Cómo es concreto? Comience desde su propia experiencia. ¿Cuándo te has
dado cuenta de que eres amado? Para mí, es la misericordia, ser amado cuando no lo merezco o lo espero. Al igual que el hijo menor de la parábola del Hijo Pródigo, el Padre nos abraza con alegría. El amor también es concreto en la forma en que te trato. En la manera en que no veo a un extraño que temer, sino que lo abrazo como amigo. Las manifestaciones tras la muerte de George Floyd piden una conversión y un cambio. ¿Qué clase de cambio? Que realmente nos miremos unos a otros. Que busquemos internamente para ver dónde existe el pecado del racismo. Esto sólo puede suceder si he experimentado un amor que me cambie y libere. Por eso necesitamos a Jesús. El cambio llega cuando nos convertimos. A través de nuestros ojos y acciones, otros encontrarán un amor que los cambia. El primer paso es encontrar y dejar que el amor y la misericordia transformen nuestros corazones. Como cristianos, tenemos la obligación y la responsabilidad de ser este cambio. Inundados con el amor de Cristo, debemos ser ese signo de cambio, empezando con los más cercanos a nosotros. 

Estado de reapertura
Aunque la Fase 2 para la reapertura ha sido establecida para Maryland, el
condado de Montgomery continúa con las restricciones actuales. Esto significa que seguimos ofreciendo misa solamente a través del internet hasta nuevo aviso.
10:00 am, domingo en inglés: aquí
11:30 am, domingo en español: aquí
Programa de adoración: aquí
Estamos trabajando en la logística para el momento de reapertura. Cuando
llegue el momento, le enviaremos un documento muy detallado junto con
algunos videos que se están preparando para ayudarle a volver a la misa.

Conociendo la frustración de muchos pastores y feligreses en el condado de
Montgomery, la oficina del arzobispo Gregory ha estado en continua
comunicación con nuestro gobierno del condado pidiendo que estas directrices coincidan con los planes de reapertura del gobernador Hogan. Siga orando por algún movimiento en esto.

Esto es muy difícil para todos nosotros. Sin embargo, vivamos estas
circunstancias con fe y paciencia. Dios está haciendo algo a través de todo esto. Podemos elegir estar desanimados o elegir estar llenos de esperanza, dispuestos a sufrir como Cristo pide.

Permítanme también sugerir: No sientan que están restringidos, o que se
les niega orar y adorar a Dios. Si uno depende totalmente de Dios, está libre de todas las circunstancias. Acabo de leer una entrevista con el Cardenal Ernest Simoni, que durante 28 años estuvo encarcelado en Albania, y ahora es "¡un joven de 92 años!"  Comentando sobre estos "tiempos extremadamente difíciles", él ve una oportunidad para recordar "lo que hemos olvidado: que la vida nunca nos será quitada ". Dice, "Dios es amor infinito. Él toca el corazón del alma de cada hombre y mujer. Él está en cada hogar…" Durante este tiempo sin misas públicas y pocos sacramentos, esto es aún más claro para él. "Jesús dijo: 'Donde dos personas están orando, yo estoy allí como la tercera'. Él está en cada familia, en cada momento, en todos los lugares en que lo buscamos". El texto completo se puede encontrar aquí

También, miremos a nuestros hermanos y hermanas afroamericanos.
La horrible deshumanización de la esclavitud y el racismo no pudo matar el
espíritu humano. De su experiencia provienen algunos de los más bellos
espirituales que expresan esperanza en el amor y la promesa de Dios. Aunque fueron esclavizados, encontraron una manera de expresar su libertad en pertenecer a Él. Hay algo más grande que el mundo en el mundo.
Anhelo estar contigo. Como dice una canción evangélica: "Pronto y muy pronto, vamos a ver al Rey". (Andraé Crouch)
"[Dios] enjugará las lágrimas de sus ojos. Ya no habrá muerte ni lamento, ni
llanto ni pena, pues todo lo anterior ha pasado". Apocalipsis 21:4.

Que Dios le bendiga
Padre Lee