Español abajo
You lack one thing…go sell what you have, then come follow me.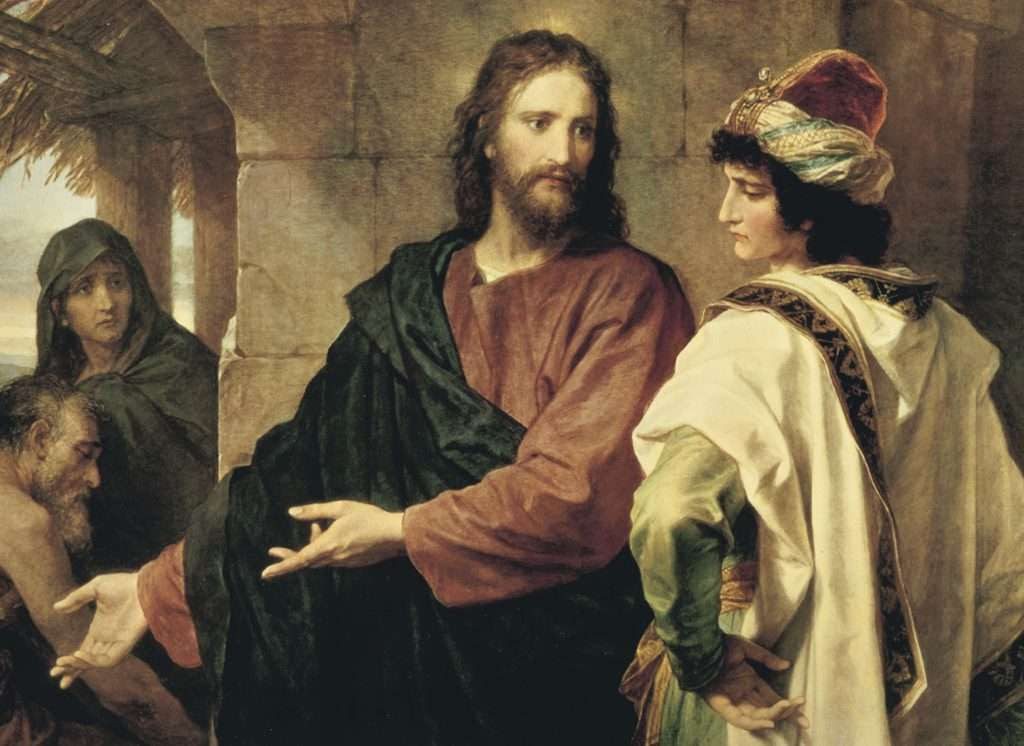 Dear Mother Seton Parish,
Before I go for my two week retreat/vacation, I want to thank Fr. Lou, Fr. Greg and Fr. Alberto, along with the other priests who will fill in, for helping take care of our parish. Fr. Greg is a kind, warm, and generous priest who has already brought a calm and serenity to the rectory and parish. With all of them, I am confident the parish's needs will be met. 
My time in Carmel, at the monastery, is such a blessing. I am aware that so few have this kind of opportunity to be immersed in beauty and the presence of the Lord in such a way. It seems a little indulgent, but I believe that the Father is making this happen.
Too often, I have been like the rich, young man in the gospel who walks away sad, crestfallen, because though he desires to be good, cannot give up everything in light of Jesus and follow him. This time away is to be before his face and ask for the grace to prefer him to everything else. I ask that he make himself so attractive to me as to take all my affection. This sounds all too pious and lofty, I know, but I can at least give him the chance. 
You all are part of me and I hope this trip will be as much for you as for me. 
Love and prayers,
Fr. Lee

Annual Financial Report
In this weekend's bulletin is our Financial Report for the last fiscal year. Amazingly we ended up very well. This is because we budgeted for a very lean year and cut back spending. We did not fill vacant positions such as Youth Minister and Business Manager as well as received and were forgiven the PPP loan. Thankfully, you parishioners continued to support Mother Seton Parish through the shut down and many moved to online giving, which shows your commitment and love for the parish. Thank you all for all that you did for us. We are truly blessed. 

Parish Pictorial Directory
Sign up now! You can click on the link below and make your
appointment on-line.
https://instant-scheduling.com/sch.php?kn=763&typId=63764&step=2
Or you can sign up in person on the weekends of Oct 16-17, and 23-24 in the narthex of the church after masses.

Photo dates are:
November 3-5, 22-24, 26-27
You will have a professional photography session, schedule a ZOOM
meeting to see your proofs on the computer and have the opportunity to
purchase extra portraits for family and friends.
Mother Seton's October 13th 1,000 Rosary Pledge!
Please join us as Mother Seton honors the 104th Anniversary of the Miracle of Fatima and Mary's call to pray the Rosary for conversion, reparation, salvation of souls, peace, unity and our personal holy intentions by making a pledge to pray Rosaries on October 13th. Sign-up sheets are on the table in the front of the Church. You may pray your Rosaries privately at home or in Church, or join us for Public Recitations at Mother Seton Church at the following times on October 13th: Joyful and Luminous Mysteries 8:30 – 9:00 am; Sorrowful and Glorious Mysteries 9:30 – 10:00 am; Glorious Mysteries at 12:00 Noon; and all 4 Mysteries from
5:30 – 6:30 PM. More is wrought by prayer than anyone can imagine!
See you all in two weeks….
___________________________________________________________________
Querida Parroquia Mother Seton,
Antes de ir a mi retiro / vacaciones de dos semanas, quiero agradecer al Padre Lou, al Padre Greg y al Padre Alberto, junto con los otros sacerdotes que ayudarán a cuidar de nuestra parroquia. El Padre Greg es un sacerdote amable, cálido y generoso que ya ha traído calma y serenidad a la rectoría y a la parroquia. Con todos ellos, confío en que se satisfirán las necesidades de la parroquia.Mi tiempo en Carmel, en el monasterio, es una bendición. Soy consciente de que muy pocos tienen este tipo de oportunidad de estar inmersos en la belleza y la presencia del Señor de tal manera. Parece un poco indulgente, pero creo que el Padre está haciendo que esto suceda. Con demasiada frecuencia, he sido como el joven rico en el evangelio que se va triste, decaído, porque, aunque desea ser bueno, no puede renunciar a todo a luz de Jesús y seguirlo. Este tiempo fuera es estar ante su rostro y pedir la gracia de preferirlo a todo lo demás. Le pido que se haga tan atractivo para mí como para tomar todo mi afecto. Esto suena demasiado piadoso y elevado, lo sé, pero al menos puedo darle la oportunidad.Todos ustedes son parte de mí y espero que este viaje sea tanto para ustedes como para mí.Amor y oraciones,
Padre Lee
Informe Financiero Anual
A continuación, se incluye nuestro Informe Financiero para el último año fiscal y se incluirá en el boletín del próximo fin de semana. Sorprendentemente terminamos muy bien. Esto se debe a que presupuestamos para un año muy austero y recortamos los gastos. No llenamos puestos vacantes como Ministro de la Juventud y Gerente de Negocios, así como recibimos y se nos perdonó el préstamo PPP. Afortunadamente, ustedes los feligreses continuaron apoyando a la Parroquia Mother Seton durante el cierre y muchos se cambiaron a las donaciones en línea, lo que muestra su compromiso y amor por la parroquia. Gracias a todos por lo que hicieron por nosotros. Somos verdaderamente bendecidos.

Directorio Pictórico Parroquial¡Regístrese ahora! Puede hacer clic en el siguiente enlace y hacer su cita en línea.
 https://instant-scheduling.com/sch.php?kn=763&typId=63764&step=2O puede inscribirse en persona los fines de semana del 16 al 17 de octubre y del 23 al 24 en el vestíbulo de la iglesia después de las misas.
 
 Las fechas de las fotos son: 3-5, 22-24, 26-27 de noviembre
 
Tendrá una sesión de fotografía profesional, programará una reunión por ZOOM para ver sus pruebas en la computadora y tendrá la oportunidad de comprar retratos adicionales para familiares y amigos.

¡Promesa del Rosario 1000 del 13 de octubre de Madre Seton!
Únase a nosotros mientras la Madre Seton honra el 104 aniversario del Milagro de Fátima y el llamado de María a rezar el Rosario por la conversión, reparación, salvación de las almas, paz, unidad y nuestras santas intenciones personales al comprometerse a rezar los rosarios el 13 de octubre. Las hojas de inscripción están en la mesa al frente de la Iglesia. Puede rezar sus rosarios en privado en casa o en la iglesia, o unirse a nosotros para las recitaciones públicas en la iglesia Mother Seton en los siguientes horarios el 13 de octubre: Misterios Gozosos y Luminosos 8:30 – 9:00 am; Misterios Dolorosos y Gloriosos 9:30 – 10:00 am; Misterios gloriosos a las 12:00 del mediodía; y los 4 misterios de
5:30 – 6:30 p.m. ¡La oración produce más de lo que nadie pueda imaginar!

Nos vemos en dos semanas….