Español abajo
Lord, send out your Spirit and renew the face of the earth…Ps 104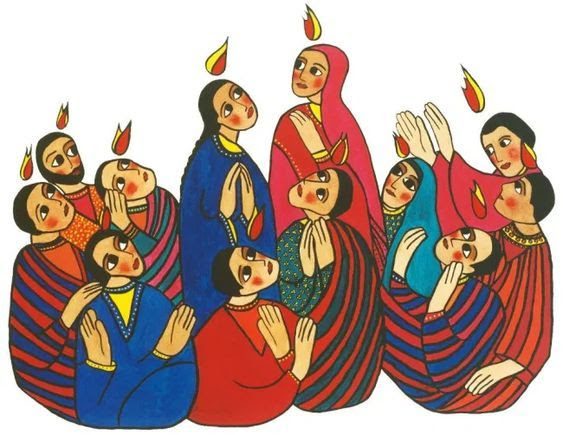 Dear Mother Seton Parish,
Pentecost – the gift of the Holy Spirit – is God's response to our deepest need. I am not myself, not fully me, unless the Spirit is accepted and resides with me. It is God's desire that He dwells in us. It is how He can fully love us, as He loves the Son. So much does He desire this, that the Son becomes man, offers himself completely, breaking open his body like an alabaster jar, so the fragrance of the Spirit may fill the whole world. The glory of God is man fully alive, says St. Ireneaus. Fully alive means alive in Christ. "It is no longer I who live, but Christ who lives in me" says St. Paul. It is what we are made for, what we long for. It is the reason we exist. God restores us in Christ through the Holy Spirit. Here is a quote from Monsignor Giussani about the Ascension and Pentecost:
"Therefore, the mystery of the Ascension completes the mystery of the Resurrection, amplifies and enlarges it to all of reality, all times, all history, eternity. Jesus is King of the universe, Lord of history. The multiform riches that this possession implies is communicated to those who follow Him, to those who are called, in the circumstances they live in faithfulness.
Who can make us understand these things? Who will keep these words from floating on the borders of our consciousness…Who can make us understand these words, begin to make us penetrate these words?… Who can immerse us in the definitive mystery of the Ascension…It is the Spirit of Christ. It is the Spirit of the Word made flesh, risen from the dead and raised up to heaven."
"It is better for you that I go, because if I go I will send you the Spirit, my Spirit, who will take everything from Me and will make you understand it."(Jn 16:7-14) It is the Spirit that introduces us to the Mystery. This is why Pentecost is the day that completes Easter, the Easter Season.
Christ's Resurrection; Christ's Ascension into heaven; Christ's establishment in His eternal possession, in which He calls us to participate, thus the beginning of ours. It is His Spirit that, beginning to dominate our life–if our freedom opens its arms and says: "Come!"–molds our life according to the form it will have forever. Thus, we begin to judge, perceive, feel, look, embrace, love, use, and create according to His truth, the truth that without Him would not exist in any of our relationships, and we would let everything fall apart.
"Grant that we may be renewed in Your Spirit, in order to be born again in the light of the risen Lord. Enable us, according to the promise, to feel Your presence among us, to the end of times. Give us the serene trust that the entire body of the Church will unite with Christ her head in glory. It is the ever more acute perception of Christ risen and of His Mystery and the ever more majestic coming together of our unity, of the unity of all those who are called to witness to Him in the world, to testify to the risen Christ in the world." (In the Depths of Things, Page One, Traces 1992)
Practically, what does this mean for us? It means everything we live, every circumstance, from work, leisure, illness, relationship…every moment is impregnated with Christ.
Come Lord Jesus! Come Holy Spirit!
Fr Lee
Fr. Alberto Biondi has been assigned as Administrator of Mount Calvary Parish and Holy Spirit Parish.
Fr. Alberto will become the Administrator of these two parishes on July 5th. They are in Prince George's County, in Forestville and District Heights. We will miss him and his infectious laugh and good nature and compelling homilies. He brought much joy to the rectory and to the rest of us. We are blessed to have had him here and send him with our prayers. We have some time to show our appreciation. God bless him and his new parishes and parishioners.
Welcome our Seminarian for the summer – Marco Magpantay.
Marco will be with us through July. Please give him a warm welcome.
Memorial Day Mass at All Souls Cemetery, Monday Memorial Day at 10am.
Cardinal Gregory will celebrate the mass at 10am at the cemetery. All are welcome.
Volunteer Appreciation Cocktail Party June 3rd, 2023 7:30pm-10:30pm.
Anyone who has given their time and talent in any way, such as liturgical ministers, catechists, money counters, council members, church cleaners, altar linen cleaners, flower arrangers, social outreach ministers, etc etc…are invited to join us for a "cocktail party" of food, dancing and fun. 21 years of age and older invited. Please RSVP to: tolanamy@gmail.com.

Querida Parroquia Mother Seton,
Pentecostés, el don del Espíritu Santo, es la respuesta de Dios a nuestra necesidad más profunda. No soy yo mismo, no soy completamente yo, a menos que el Espíritu sea aceptado y resida conmigo. Es el deseo de Dios que Él habite en nosotros. Así es como Él puede amarnos plenamente, como ama al Hijo. Tanto desea esto, que el Hijo se hace hombre, se ofrece completamente, abriendo su cuerpo como una jarra de alabastro, para que la fragancia del Espíritu llene el mundo entero. La gloria de Dios es el hombre plenamente vivo, dice San Ireneo. Plenamente vivo significa vivo en Cristo. "Ya no soy yo quien vive, sino Cristo quien vive en mí", dice San Pablo. Es para lo que estamos hechos, lo que anhelamos. Es la razón por la que existimos. Dios nos restaura en Cristo a través del Espíritu Santo. He aquí una cita de Monseñor Giussani sobre la Ascensión y Pentecostés:
"Por lo tanto, el misterio de la Ascensión completa el misterio de la Resurrección, lo amplifica y lo amplía a toda la realidad, a todos los tiempos, a toda la historia, a la eternidad. Jesús es Rey del universo, Señor de la historia. Las riquezas multiformes que implica esta posesión se comunican a los que lo siguen, a los que son llamados, en las circunstancias en que viven en fidelidad.
¿Quién puede hacernos entender estas cosas? ¿Quién evitará que estas palabras floten en los límites de nuestra conciencia? ¿Quién puede hacernos entender estas palabras, comenzar a hacernos penetrar estas palabras?… ¿Quién puede sumergirnos en el misterio definitivo de la Ascensión? Es el Espíritu de Cristo. Es el Espíritu del Verbo hecho carne, resucitado de entre los muertos y elevado al cielo".
"Es mejor para ti que yo vaya, porque si voy te enviaré el Espíritu, mi Espíritu, que tomará todo de Mí y te hará entenderlo." (Jn 16,7-14) Es el Espíritu el que nos introduce en el Misterio. Es por eso que Pentecostés es el día que completa la Pascua, el tiempo de Pascua. La resurrección de Cristo; La Ascensión de Cristo al cielo; El establecimiento de Cristo en su posesión eterna, en la que nos llama a participar, por lo tanto, el comienzo de la nuestra. Es Su Espíritu el que, comenzando a dominar nuestra vida, si nuestra libertad abre sus brazos y dice: "¡Ven!" –moldea nuestra vida según la forma que tendrá para siempre. Así, comenzamos a juzgar, percibir, sentir, mirar, abrazar, amar, usar y crear de acuerdo a Su verdad, la verdad que sin Él no existiría en ninguna de nuestras relaciones, y dejaríamos que todo se desmorone. "Concédenos ser renovados en Tu Espíritu, a fin de nacer de nuevo a la luz del Señor resucitado. Permítenos, de acuerdo con la promesa, sentir Tu presencia entre nosotros, hasta el fin de los tiempos. Danos la serena confianza de que todo el cuerpo de la Iglesia se unirá con Cristo, su cabeza, en gloria. Es la percepción cada vez más aguda de Cristo resucitado y de su misterio y la unión cada vez más majestuosa de nuestra unidad, de la unidad de todos aquellos que están llamados a ser sus testigos en el mundo, a dar testimonio de Cristo resucitado en el mundo". (En las profundidades de las cosas, página uno, Traces 1992)
Prácticamente, ¿qué significa esto para nosotros? Significa todo lo que vivimos, cada circunstancia, desde el trabajo, el ocio, la enfermedad, las relaciónes… cada momento está impregnado de Cristo.
¡Ven Señor Jesús! ¡Ven Espíritu Santo!
Padre Lee
Bienvenido a nuestro seminarista durante el verano – Marco Magpantay.
Marco estará con nosotros hasta julio. Por favor, dele una cálida bienvenida.
Cóctel de agradecimiento a los voluntarios 3 de junio de 2023 7:30 pm-10:30 pm.  Cualquier persona que haya dado su tiempo y talento de alguna manera, como ministros litúrgicos, catequistas, contadores de dinero, miembros del consejo, limpiadores de iglesias, limpiadores de ropa de altar, arregladores de flores, ministros de alcance social, etc., etc. están invitados a unirse a nosotros para un "cóctel" de comida, baile y diversión. 21 años de edad y mayores invitados. Por favor, confirme su asistencia a: tolanamy@gmail.com
El Padre Alberto Biondi ha sido asignado como Administrador de la Parroquia Mount Calvary y de la Parroquia del Espíritu Santo.
El Padre Alberto se convertirá en el Administrador de estas dos parroquias el 5 de julio. Están en el condado de Prince George, en Forestville y District Heights. Lo extrañaremos y a su risa contagiosa y su buena naturaleza y homilías convincentes. Trajo mucha alegría a la rectoría y al resto de nosotros. Tenemos la bendición de haberlo tenido aquí y enviarlo con nuestras oraciones. Tenemos algo de tiempo para mostrar nuestro agradecimiento. Dios lo bendiga a él y a sus nuevas parroquias y feligreses.
---