Purpose
Our 2-year middle school Confirmation preparation program 7th and 8th graders that meets every other week on Wednesday evenings.

Purpose from LifeTeen
About the Program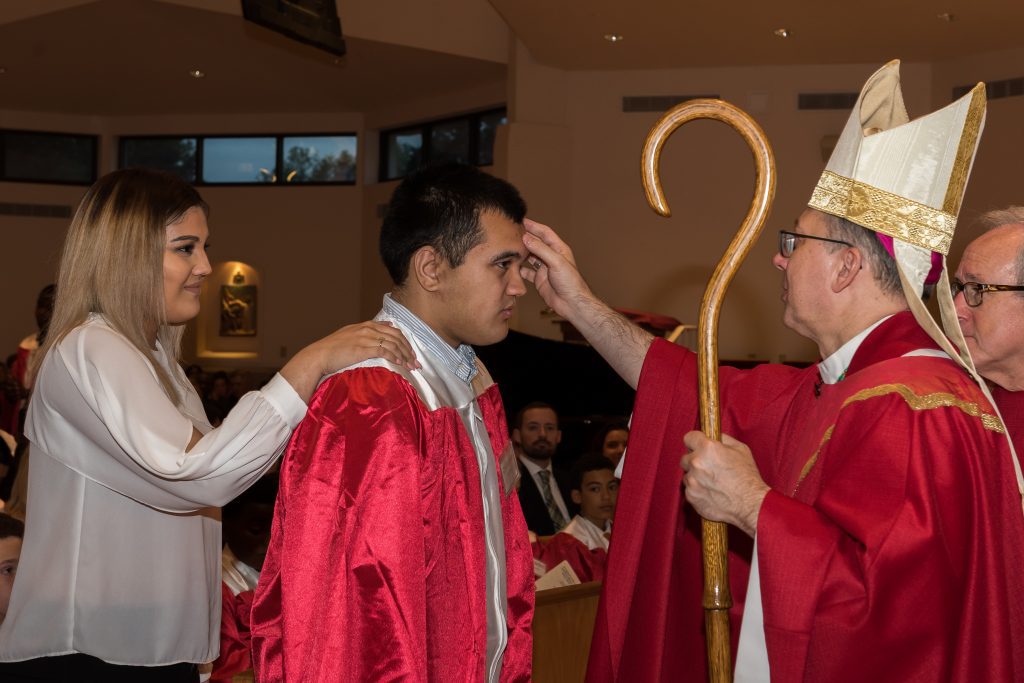 What is Purpose? "Purpose" is a program with an emphasis on relational ministry and discussion that is designed to connect young teens to the concepts of their faith to their everyday lives and deepen their relationship with God. 7th grade and 8th grade meet at two different times. When each grade gathers their evening is split into two main components: Large Group time and Small Group time. Beginning with Large Group in the Parish Center, teens will be introduced to the topic of the night, play a game to grow in community, and be given a talk for the main lesson. After Large Group they will transition to the McCabe Center for their Small Group time, where they will meet in a classroom to not only unpack and apply what they heard in Large Group to their lives as today's teens, but also to share in life together by talking about their week and getting to know one another. The program also features an app to keep students on top of class dates and due dates for preparation expectations. Download the app for iPhones or Androids for free.
Our Goal: To encourage and equip each individual for a lifelong, personal relationship with Jesus Christ. This goal is accomplished in varying ways based on the age, needs, and sacramental requirements of each student, and in this program, in particular, it is done with an emphasis on relationship and honest application to everyday life.
When we meet: 7th grade meets every-other Wednesday from 6:45 – 8:30 pm. 8th grade meets every-other Wednesday from 5:45-7:30 pm. The classes meet on the same Wednesdays as one another, they simply have a staggered start time. Full calendar is available HERE.
Confirmation Preparation Expectations: More details coming soon.
Registering/Questions
How to Register: Print out the registration form and fill out both sides. In the last column of your child's information, you will indicate either "RCIC Year 1" or "RCIC Year 2" as the program. Turn in form and payment to the Faith Formation office.
Got a question?
Contact: Cathy McTighe
Director of Youth Ministry (MS and HS)
youth@mothersetonparish.org
240-780-7610
VOLUNTEERS NEEDED: Contact Mary Beth DeLuzio
coordinator@mothersetonparish.org
301-924-3838 ext. 234