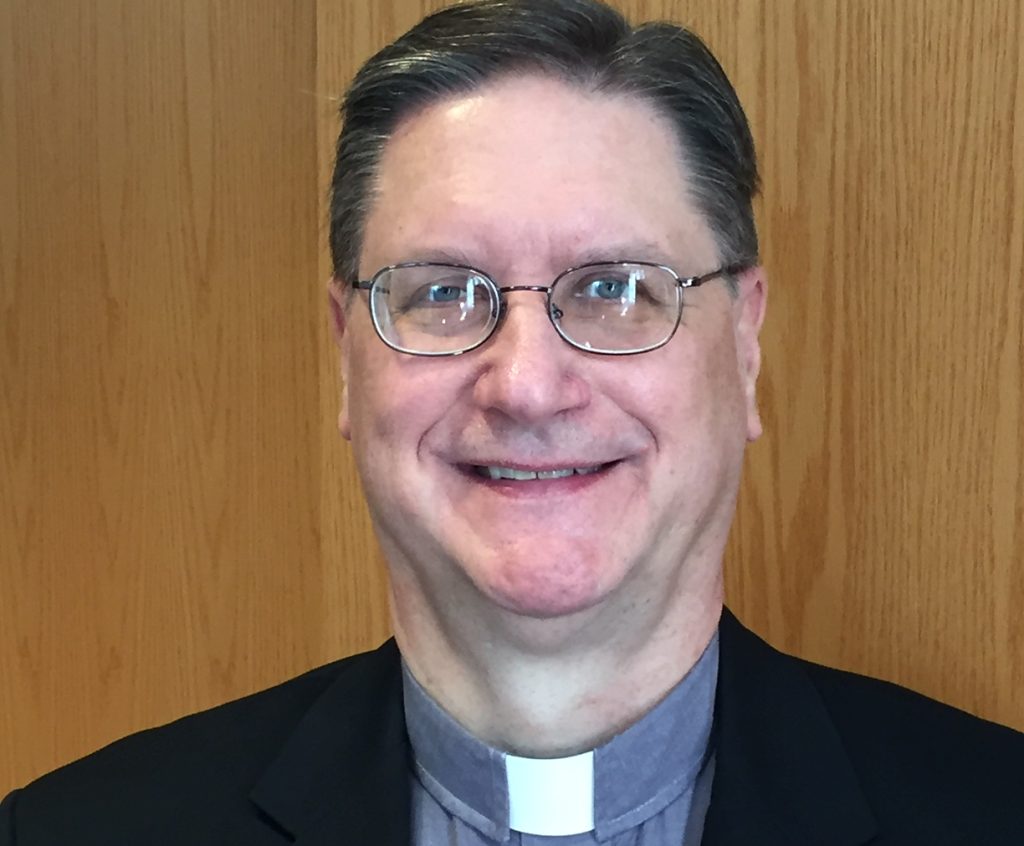 Born in Newark, New Jersey but calls Pittsburgh home as his family move there in
1972 (Go Steelers).

After getting a degree in accounting and computer science at the University of Dayton (in Ohio), he started professional career in Pittsburgh as a CPA.

In 1986 Steve moved to Maryland, and Mother Seton Parish, as he began a new career at Marriott where he works today in the marketing department
Steve married Christine, his first girlfriend and high school sweetheart, in 1988 and together they have a son, Daniel who is 28 now and living on his own.

Steve began his diaconate formation in 2005 and was ordained as a Permanent Deacon in 2010 and assigned to Mother Seton parish

As a deacon, his responsibilities include:
 Marriage – premarital counseling, and performing marriages
 Baptisms
 Master of Ceremonies for Bishops around the Archdiocese
 Supporting Lector and Extraordinary Minister of Holy Communion
formation at Mother Seton
 Coordinator of Diaconate Formation Summer Ministries
 Panelist on Deacon Applicant Screening Committee

Trivia Fact: Steve has received all seven Sacraments

Favorite Saint – Saint Stephen (of course) – first martyr and patron saints of deacons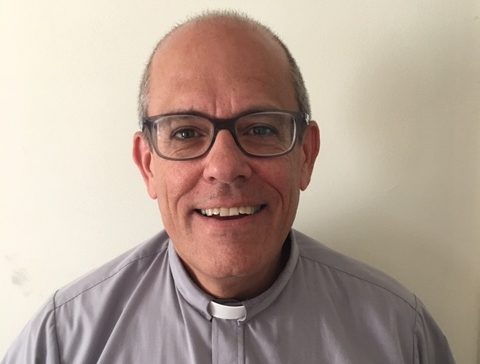 Hello! I'm Deacon Raul. I have been a deacon for 3 years and a medicinal chemist for 37 years; working at the NIH for the past 7 years. I am married to my wife Christine for 34 years. We have three daughters: Kristina, 32; Alisa, 31 and Olivia (our baby!) 27. I am originally from Cuba. At the age of 16, I had a powerful religious experience reading the Gospels. Ever since then, I have sought to grow in faith in the midst of much noise. This week I will share with you some of the challenges and the great joy of what it means to be a Christian in today's society.
Sept. 7
The boastful may not stand before your eyes (Psalm 5:5).Our society encourages us to be self-centered- to look out for number one!When we are self-centered, we fail to recognize those actions in our midst that harm us and to our greatest detriment, we fail to recognize Jesus passing by. To be willing to be led by the Spirit, allows for growth in our spiritual life and healing from the effects of sin.

Sept. 8
Nativity of the Blessed Virgin Mary…from you shall come forth for me one who is to be ruler in Israel... (Micah 5:2b)Nothing unusual in Mary's birth and yet in God's plan she was chosen to be the first Christian. Mary was a student of God's Word and when her moment arrived to bear Jesus, the Savior of the world, Mary was ready in spite of the uncertainties. It's the same with us. God is calling us to be bearers of the God-man in our lives.

Sept. 9
Blessed are you poor, for yours is the Kingdom of God,. (Luke 6: 20b)Today, the United States diocese celebrates St Peter Claver, a Jesuit priest, who ministered to slaves-the poorest of the poor. We are also called to look in our lives at those who need our help and prioritize them over our selfish ambitious goals.

Sept. 10
The brother for whom Christ died. (1 Corinthians 8:11b)Every person in our lives is loved and chosen by God to carry out a unique mission in life. It is this knowledge that is the foundation of how we treat one another.

Sept. 11
A disciple is not above his teacher. (Luke 6:40a)This pandemic is presenting us a great challenge. Here we have the most complicated organism in the world being defeated by an entity that we cannot see and that is much simpler than ourselves. Whatever solution we decide to subject ourselves to, we must take on with humility and complete trust in God as Jesus our model did. We need to be careful that our actions don't test God (Matthew 4:5-7). Our fundamental vision needs to be always towards the eternal, our true home.
---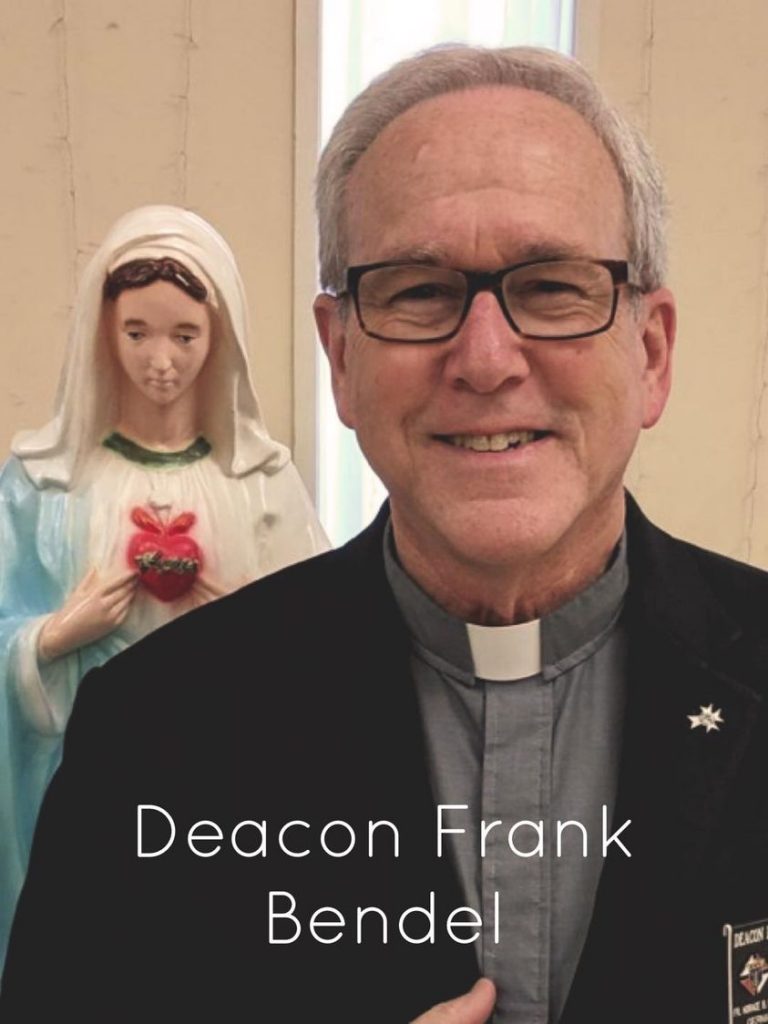 Deacon Frank and his wife Isabel have been married for 43 years.
They've traveled the world, including assignments to embassies in Africa,
Europe, and South America. They have five children and four
grandchildren. The Bendels moved to Mother Seton Parish in 2001. In
2008, Frank was ordained a deacon.
Deacon Frank is the associate chaplain for the Knights of Columbus,
moderator for the Sodality, and has taught faith formation (5 th grade). He
has been the program coordinator for baptismal preparation and RCIA. He
taught ESL classes at Spanish Catholic Charities.
Frank spent 30 years with the federal government. For the past ten
years, he's been driving a bus part-time for the county transit system. If
you see him on the bus, say hello.
Monday (31 Aug)
We've started a "deacon's corner," a place where deacons can reflect on the readings of the day, the saint of the day, an event, or a prayer. Also, this will be the place to offer encouragement to fellow parishioners during the pandemic. The deacons have been instructed to keep it short, that is, four to eight sentences. The difficulty is not finding something to say — our faith is so rich and deep that there is always something to say — the difficulty is to say something meaningful but at the same time keep it concise.
Tuesday (1 Sep)
We can immerse ourselves in contemplation of the Trinity, for the Trinity is the ultimate reality where existence begins and ends. The father is God. The son is God. The Holy Spirit is God. There is one God. The father, son, and Holy Spirit are distinct persons sharing one nature. Truly, we can spend lifetimes contemplating the Trinity.
Wednesday (2 Sep)
Define God. Where do we begin? God is love. He is eternal, infinite, immutable, omniscient, omnipotent, et cetera, et cetera, et cetera. Way too many words, this is not a memory game. So — keeping it short — God is that from which all else proceeds. He is the living being who created and guides us.
Thursday (3 Sep)
Today is the feast day of Pope St. Gregory the Great (590 to 604). In one of his homilies, he describes the prophet Ezekiel as a watchman who stands on a height so that he can see from afar what is coming.
Gregory could have been describing himself. In a time of turmoil, the Lord selected another Ezekiel to lead his church. A deep thinker, a doctor of the Church, Gregory is also a man of action. Among other things, he made peace with the invading Lombards and fed the poor. The Lord will always send us who we need when that person is needed.
Friday (4 Sep)
We can describe ourselves as male or female, liberal or conservative, left-handed or right-handed, boomer or millennial… I'm from New Haven where the great divide is Yankee or Red Sox.
In today's first reading, Paul says, "Thus should one regard us: as servants of Christ and stewards of the mysteries of God."
That's us in a nutshell. Ignore all other divisions. We are slaves of Christ and guardians of the Lord's creation.